Synopsis: "Want to stay with me… at the Video Game Club?" Keita Amano is an isolated and mediocre guy without any interesting personality traits, except his love for games. One day, he is approached by Karen Tendo, the prettiest girl in school and president of the Video Games Club. This moment changes Keita's life forever, and transports him to a romantic comedy with beautiful girls gamers… At least, it was supposed to be that way. But with him, it's different.
Amano Keita is our lone protagonist who has a passion for games. He is friends with Uehara Tasuku, a gamer (in secret) and who believes the boy's life is perfect. We also have Tendou Karen, the president of the video game club who is known as the prettiest girl in her school, and Hoshinomori Chiaki, who constantly fights Keita. This is a story full of comedy scenes and confusion. Is this the beginning of a typical harem of school life with pretty girls? Our chaotic romantic comedy starts now!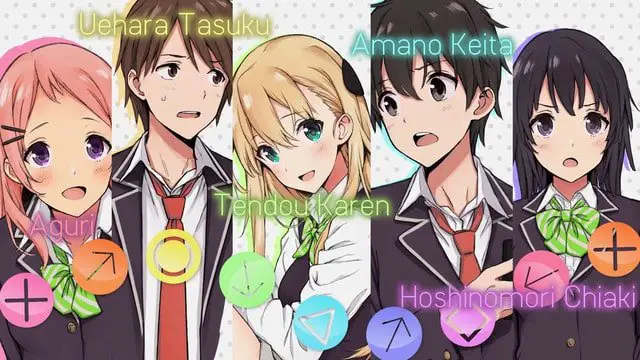 GAMERS: An anime for game addicts and full of life learning
GAMERS! it's definitely an unforgettable anime, I can clearly remember coming back from work eager to see the next episode. The release days of this anime were sacred to me, just as its memories are to this day.
It's easy for me to relate to the story of an otaku addicted to games living his life in high school and having problems except by the harem part. Amano Keita dives headlong into his vices and tastes in a way that makes him envious.
what i liked
One of the most exciting things about this incredible school romance is the naturalness and love with which Amano Keita treats his love for games. Who could forget the scene on the bridge where the protagonist says: "Games are what keep us alive. We cannot ignore this".
Keita's love of games reaches a level where he declines the invitation of the prettiest girl in school, Tendou Karen, to join the gaming club. His refusal has to do with the fact that he thinks games should be fun and not played to compete.
Bit by bit GAMERS! touched my heart and sent an important message: it's ok to like games and anime. This may seem obvious, but only those who have been isolated for most of their studies know what it's like to be the weird nerd in the room.
All the characters involved are well built, as is classic slice of life, and serve as tension relief points amidst so much confusion that happens in the lives of students.
This balance between being a romantic comedy and delivering a clear and effective message is what makes me love this anime more than many others in the same genre. If you're a gamer or an otaku and you've felt or feel out of place, this anime is definitely for you.
What I didn't like so much
The only thing that bothers me about GAMERS! is that sometimes, the disagreements and confusions go beyond the limit and end up losing their fun. There comes a time when you just want things to happen and get rid of that tension.
Also, after episode 7, there's a feeling that the author got lost a bit. Not that the anime looks bad, it just doesn't have the same sleep-taking power that the first half had.
I don't know if that counts in a review, but I hated the fact that we didn't have a second season. I know that all of this depends on the anime's sales numbers, but it doesn't fail to give kokoro a squeeze.
What I learned from GAMERS!
GAMERS! was an anime full of learning for my life, among them I could highlight:
don't be ashamed of your passions
Changing your essence or hiding is never worth it
Only those who appreciate something know the true value that it has.
beauty is not everything in life
It's okay to refuse something that's everyone's dream if that's not what makes your heart flutter
find your tribe
Check out an episode-by-episode review on Anime21
Discover other school romance animes at Pousada Nerd
If you want to know other animes on Pousada Nerd be sure to check out our posts about the best anime where intelligence matters and also a full explanation of the slice of life genus filled with nominations.
I would like to remind you that in addition to talking about anime, we also talk about literature, series, games e tech. So if you like any of these themes, feel free to stay at Pousada Nerd.
Affectionately
Marcos Mariano