Este post também está disponível em:
Português (Portuguese (Brazil))
By Marcos, creator of the Pousada Nerd blog
Anime fans can celebrate as "URUSEI YATSURA" is getting ready to return with its second season, and a new Key Visual was recently released to add to the excitement. The series, which is scheduled to start in January 2024, promises to continue to delight viewers with its unique blend of comedy, romance and sci-fi elements. The renowned Studio David Production is behind this production, which adds an extra dose of anticipation for what is to come.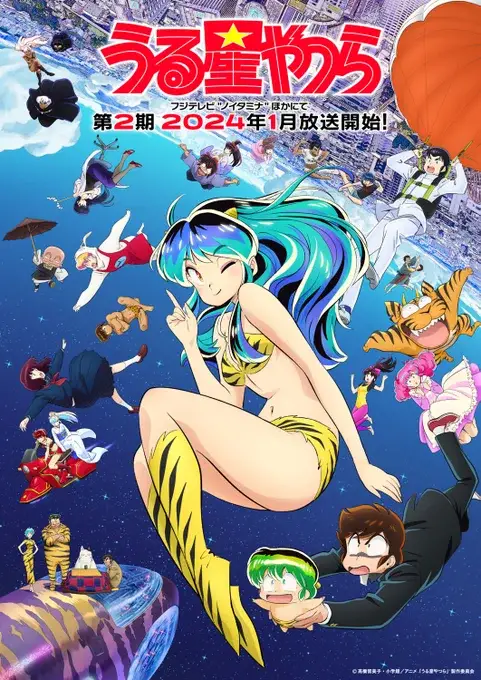 A glimpse of Season 2
The new Key Visual, revealed in the tweet shared by the @AniNewsAndFacts profile (source link), offers fans an exciting glimpse of what they can expect in the second season of "URUSEI YATSURA". The iconic characters are present in the vibrant setting, each bringing their own unique and captivating personalities. The animation style captures the retro charm of the original series while adding a modern twist, ensuring that both longtime fans and new viewers can connect with the series.
Getting ready for a new adventure
With a start date set for January 2024, fans won't have to wait long to reunite with their favorite characters and embark on a new journey of laughter and emotion. The "URUSEI YATSURA" series is known for its engaging storyline and charismatic characters, and the second season promises to expand this rich universe even further, delving deep into the interactions between the characters and exploring exciting new twists.
Studio David Production's contribution
Studio David Production, which brought beloved series such as "JoJo's Bizarre Adventure" and "Fire Force" to life, is in charge of animating this second season. With an established reputation for delivering high-quality animation and meticulous attention to detail, fans can expect the unique essence of "URUSEI YATSURA" to be carefully preserved. The combination of Studio David Production's distinctive style with the timeless charm of the "URUSEI YATSURA" series certainly promises to be a winning formula.
Conclusion
In short, the second season of "URUSEI YATSURA" promises to bring back the beloved elements of the original series, while adding new layers of excitement and adventure. The launch of the new Key Visual has increased the excitement among fans, providing an enchanting glimpse of what's to come. With its start date set for January 2024 and the contribution of the renowned Studio David Production, there is much to look forward to and celebrate for enthusiasts of this iconic series.
This post was written by Marcos, creator of the Pousada Nerd blog, based on the information provided in the tweet mentioned.