Este post também está disponível em:
Introduction
"Black Clover" has made a name for itself in the realm of manga and anime, enticing fans with its spellbinding characters and riveting plotlines. Yet, as in many anime, not every episode derives directly from the manga. To help fans differentiate between important narrative episodes and the filler content, we've crafted this comprehensive "Black Clover Filler List."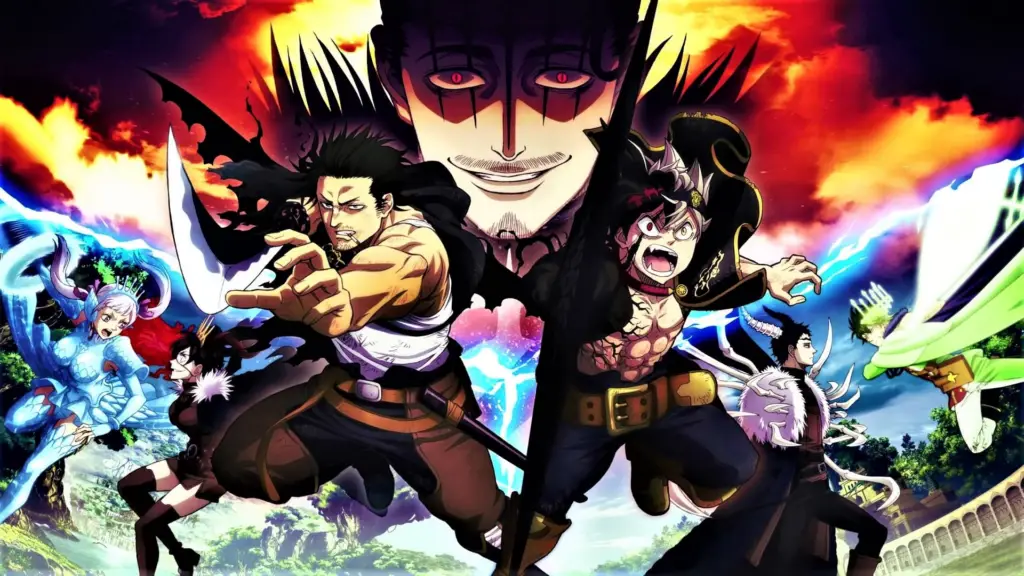 Maximize Your Manga Experience: Canon Episodes
Episodes that remain devoted to the manga storyline are generally termed as "Manga Canon" episodes.
In "Black Clover," the following episodes constitute the canon storyline derived from the manga:
Episodes: 1, 4-7, 10-11, 14-28, 31-54, 57-65, 67, 70-81, 83-101, 103-122, 126-129, 158-170
Blending Magic: Mixed Canon/Filler Episodes
Mixed Canon/Filler episodes cleverly combine elements from the manga plot and invented storylines. They facilitate an enriched narrative experience.
"Black Clover" Mixed Canon/Filler episodes encompass:
Episodes: 2, 8-9, 12, 30, 69, 102
Diversifying the Spellbook: Filler Episodes
Filler episodes are typically crafted to prevent overtaking the manga plot or providing breathing space to the creative team. While not being pertinent to the main storyline, they often offer interesting character development or side arcs.
In "Black Clover," fillers episodes are:
Episodes: 29, 66, 68, 82, 123-125, 131, 134-135, 142-149
Amplifying the Animation: Anime Canon Episodes
Distancing from the traditional canon-filler dichotomy, some episodes, not part of the original manga, still serve crucial to the anime storyline. They provide additional depth to characters, explore the nuances of the magical world, or offer significant subplots.
In "Black Clover," the anime canon episodes are:
Episodes: 3, 13, 55-56, 130, 132-133, 136-141, 150-157
Conclusion
Understanding the classification of episodes is beneficial for fans wanting to skip non-canon material or streamline their recreation of magical adventures. However, bear in mind that each episode—canon, filler, or mixed—comprehensively contributes to the overall richness of the "Black Clover" universe. Therefore, whether you're revisiting or being a first-time watcher, utilize this filler guide to enhance your viewing experience and immerse completely into the bewitching world of "Black Clover."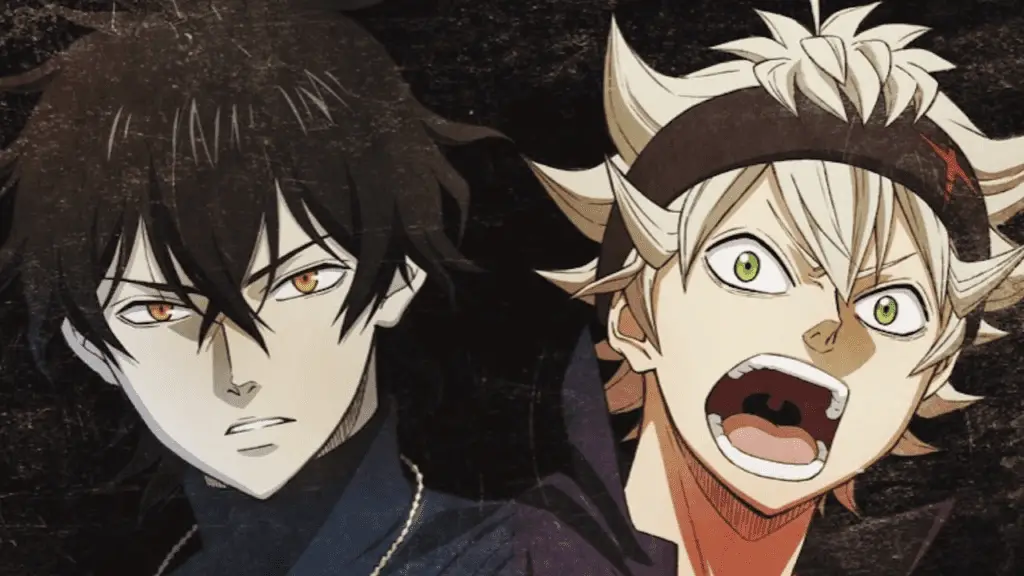 Black Clover Episode List
| # | Title | Type | Airdate |
| --- | --- | --- | --- |
| 1 | Asta and Yuno | MANGA CANON | 2017-10-03 |
| 2 | A Young Man's Vow | MIXED CANON/FILLER | 2017-10-10 |
| 3 | To the Royal Capital! | ANIME CANON | 2017-10-17 |
| 4 | The Magic Knights Entrance Exam | MANGA CANON | 2017-10-24 |
| 5 | The Road to the Wizard King | MANGA CANON | 2017-10-31 |
| 6 | The Black Bulls | MANGA CANON | 2017-11-07 |
| 7 | Another New Member | MANGA CANON | 2017-11-14 |
| 8 | Go! Go! My First Mission | MIXED CANON/FILLER | 2017-11-21 |
| 9 | Beasts | MIXED CANON/FILLER | 2017-11-28 |
| 10 | Guardians | MANGA CANON | 2017-12-05 |
| 11 | What Happened One Day in the Castle Town | MANGA CANON | 2017-12-12 |
| 12 | The Wizard King Saw | MIXED CANON/FILLER | 2017-12-19 |
| 13 | The Wizard King Saw, Continued | ANIME CANON | 2017-12-26 |
| 14 | Dungeon | MANGA CANON | 2018-01-09 |
| 15 | The Diamond Mage | MANGA CANON | 2018-01-16 |
| 16 | Friends | MANGA CANON | 2018-01-23 |
| 17 | Destroyer | MANGA CANON | 2018-01-30 |
| 18 | Memories of You | MANGA CANON | 2018-02-06 |
| 19 | Destruction and Salvation | MANGA CANON | 2018-02-13 |
| 20 | Assembly at the Royal Capital | MANGA CANON | 2018-02-20 |
| 21 | Capital Riot | MANGA CANON | 2018-02-27 |
| 22 | Wild Magic Dance | MANGA CANON | 2018-03-06 |
| 23 | The King of the Crimson Lions | MANGA CANON | 2018-03-13 |
| 24 | Blackout | MANGA CANON | 2018-03-20 |
| 25 | Adversity | MANGA CANON | 2018-03-27 |
| 26 | Wounded Beasts | MANGA CANON | 2018-04-03 |
| 27 | Light | MANGA CANON | 2018-04-10 |
| 28 | The One I've Set My Heart On | MANGA CANON | 2018-04-17 |
| 29 | Path | FILLER | 2018-04-24 |
| 30 | The Mirror Mage | MIXED CANON/FILLER | 2018-05-01 |
| 31 | Pursuit over the Snow | MANGA CANON | 2018-05-08 |
| 32 | Three-Leaf Sprouts | MANGA CANON | 2018-05-15 |
| 33 | To Help Somebody, Someday | MANGA CANON | 2018-05-22 |
| 34 | Light Magic vs. Dark Magic | MANGA CANON | 2018-05-29 |
| 35 | The Light of Judgement | MANGA CANON | 2018-06-05 |
| 36 | Three Eyes | MANGA CANON | 2018-06-12 |
| 37 | The One with No Magic | MANGA CANON | 2018-06-19 |
| 38 | The Magic Knight Captains Conference | MANGA CANON | 2018-06-26 |
| 39 | Three-Leaf Salute | MANGA CANON | 2018-07-03 |
| 40 | A Black Beach Story | MANGA CANON | 2018-07-10 |
| 41 | The Water Girl Grows Up | MANGA CANON | 2018-07-17 |
| 42 | The Underwater Temple | MANGA CANON | 2018-07-24 |
| 43 | Temple Battle Royale | MANGA CANON | 2018-07-31 |
| 44 | The Pointlessly Direct Fireball and the Wild Lightning | MANGA CANON | 2018-08-07 |
| 45 | The Guy Who Doesn't Know When to Quit | MANGA CANON | 2018-08-14 |
| 46 | Awakening | MANGA CANON | 2018-08-21 |
| 47 | The Only Weapon | MANGA CANON | 2018-08-28 |
| 48 | Despair vs. Hope | MANGA CANON | 2018-09-04 |
| 49 | Beyond Limits | MANGA CANON | 2018-09-11 |
| 50 | End of the Battle, End of Despair | MANGA CANON | 2018-09-18 |
| 51 | Proof of Rightness | MANGA CANON | 2018-09-25 |
| 52 | Whoever's Strongest Wins | MANGA CANON | 2018-10-02 |
| 53 | Behind the Mask | MANGA CANON | 2018-10-09 |
| 54 | Never Again | MANGA CANON | 2018-10-16 |
| 55 | The Man Named Fanzell | ANIME CANON | 2018-10-23 |
| 56 | The Man Named Fanzell Continued | ANIME CANON | 2018-10-30 |
| 57 | Infiltration | MANGA CANON | 2018-11-06 |
| 58 | The Battlefield Decision | MANGA CANON | 2018-11-13 |
| 59 | Flames of Hatred | MANGA CANON | 2018-11-20 |
| 60 | Defectors' Atonement | MANGA CANON | 2018-11-27 |
| 61 | The Promised World | MANGA CANON | 2018-12-04 |
| 62 | Bettering One Another | MANGA CANON | 2018-12-11 |
| 63 | Not in the Slightest | MANGA CANON | 2018-12-18 |
| 64 | The Red Thread of Fate | MANGA CANON | 2018-12-25 |
| 65 | I'm Home | MANGA CANON | 2019-01-08 |
| 66 | The Secret of the Eye of the Midnight Sun | FILLER | 2019-01-15 |
| 67 | A Fun Festival Double Date | MANGA CANON | 2019-01-22 |
| 68 | Battle to the Death?! Yami vs. Jack | FILLER | 2019-01-29 |
| 69 | The Briar Maiden's Melancholy | MIXED CANON/FILLER | 2019-02-05 |
| 70 | Two New Stars | MANGA CANON | 2019-02-12 |
| 71 | The Uncrowned, Undefeated Lioness | MANGA CANON | 2019-02-19 |
| 72 | Saint Elmo's Fire | MANGA CANON | 2019-02-26 |
| 73 | The Royal Knights Selection Test | MANGA CANON | 2019-03-05 |
| 74 | Flower of Resolution | MANGA CANON | 2019-03-12 |
| 75 | Fierce Battle | MANGA CANON | 2019-03-19 |
| 76 | Mage X | MANGA CANON | 2019-03-26 |
| 77 | Bad Blood | MANGA CANON | 2019-04-02 |
| 78 | Peasant Trap | MANGA CANON | 2019-04-09 |
| 79 | Mister Delinquent vs. Muscle Brains | MANGA CANON | 2019-04-16 |
| 80 | Special Little Brother vs. Failed Big Brother | MANGA CANON | 2019-04-23 |
| 81 | The Life of a Certain Man | MANGA CANON | 2019-04-30 |
| 82 | Clover Clips: The Nightmarish Charmy Special! | FILLER | 2019-05-07 |
| 83 | Burn It into You | MANGA CANON | 2019-05-14 |
| 84 | The Victors | MANGA CANON | 2019-05-21 |
| 85 | Together in the Bath | MANGA CANON | 2019-05-28 |
| 86 | Yami and Vangeance | MANGA CANON | 2019-06-04 |
| 87 | Formation of the Royal Knights | MANGA CANON | 2019-06-11 |
| 88 | Storming the Eye of the Midnight Sun's Hideout!!! | MANGA CANON | 2019-06-18 |
| 89 | The Black Bull Hideout | MANGA CANON | 2019-06-25 |
| 90 | Crazy Magic Battle | MANGA CANON | 2019-07-02 |
| 91 | Mereoleona vs. Rhya the Disloyal | MANGA CANON | 2019-07-09 |
| 92 | The Wizard King vs. the Leader of the Eye of the Midnight Sun | MANGA CANON | 2019-07-16 |
| 93 | Julius Novachrono | MANGA CANON | 2019-07-23 |
| 94 | New Future | MANGA CANON | 2019-07-30 |
| 95 | Reincarnation | MANGA CANON | 2019-08-06 |
| 96 | The Black Bulls Captain vs. the Crimson Wild Rose | MANGA CANON | 2019-08-13 |
| 97 | Overwhelming Disadvantage | MANGA CANON | 2019-08-20 |
| 98 | The Sleeping Lion | MANGA CANON | 2019-08-27 |
| 99 | The Desperate Path Toward Survival | MANGA CANON | 2019-09-03 |
| 100 | We Won't Lose to You | MANGA CANON | 2019-09-10 |
| 101 | The Lives of the Village in the Sticks | MANGA CANON | 2019-09-17 |
| 102 | Two Miracles | MIXED CANON/FILLER | 2019-09-24 |
| 103 | Release from Misfortune | MANGA CANON | 2019-10-01 |
| 104 | Lightning of Rage vs. Friends | MANGA CANON | 2019-10-08 |
| 105 | Smiles, Tears | MANGA CANON | 2019-10-15 |
| 106 | Path of Revenge, Path of Atonement | MANGA CANON | 2019-10-22 |
| 107 | The Battle for Clover Castle | MANGA CANON | 2019-10-29 |
| 108 | Battlefield Dancer | MANGA CANON | 2019-11-05 |
| 109 | Spatial Mage Brothers | MANGA CANON | 2019-11-12 |
| 110 | The Raging Bull Joins the Showdown!! | MANGA CANON | 2019-11-19 |
| 111 | The Eyes in the Mirror | MANGA CANON | 2019-11-26 |
| 112 | Humans Who Can Be Trusted | MANGA CANON | 2019-12-03 |
| 113 | Storming the Shadow Palace | MANGA CANON | 2019-12-10 |
| 114 | The Final Invaders | MANGA CANON | 2019-12-17 |
| 115 | Mastermind | MANGA CANON | 2019-12-24 |
| 116 | The Ultimate Natural Enemy | MANGA CANON | 2020-01-07 |
| 117 | Breaking the Seal | MANGA CANON | 2020-01-14 |
| 118 | A Reunion Across Time and Space | MANGA CANON | 2020-01-21 |
| 119 | The Final Attack | MANGA CANON | 2020-01-28 |
| 120 | Dawn | MANGA CANON | 2020-02-04 |
| 121 | Three Problems | MANGA CANON | 2020-02-11 |
| 122 | As Pitch Black as It Gets | MANGA CANON | 2020-02-18 |
| 123 | Nero Reminisces… Part One | FILLER | 2020-02-25 |
| 124 | Nero Reminisces… Part Two | FILLER | 2020-03-03 |
| 125 | Return | FILLER | 2020-03-10 |
| 126 | The Blue Rose's Confession | MANGA CANON | 2020-03-17 |
| 127 | Clues | MANGA CANON | 2020-03-24 |
| 128 | To the Heart Kingdom! | MANGA CANON | 2020-03-31 |
| 129 | The Devil Megicula | MANGA CANON | 2020-04-07 |
| 130 | The New Magic Knight Squad Captains' Meeting | ANIME CANON | 2020-04-14 |
| 131 | A New Resolve | FILLER | 2020-04-21 |
| 132 | The Lion Awakens | ANIME CANON | 2020-04-28 |
| 133 | The Lion Awakens, Continued | ANIME CANON | 2020-07-07 |
| 134 | Those Who Have Been Gathered | FILLER | 2020-07-14 |
| 135 | The One Who Has My Heart, My Mind, and Soul | FILLER | 2020-07-21 |
| 136 | A Black Deep-Sea Story | ANIME CANON | 2020-07-28 |
| 137 | Charmy's Century of Hunger, Gordon's Millennium of Loneliness | ANIME CANON | 2020-08-04 |
| 138 | In Zara's Footsteps | ANIME CANON | 2020-08-11 |
| 139 | A Witch's Homecoming | ANIME CANON | 2020-08-18 |
| 140 | A Favor for Julius | ANIME CANON | 2020-08-25 |
| 141 | The Golden Family | ANIME CANON | 2020-09-01 |
| 142 | Those Remaining | FILLER | 2020-09-08 |
| 143 | The Tilted Scale | FILLER | 2020-09-15 |
| 144 | Those Who Wish to Destroy Devils | FILLER | 2020-09-22 |
| 145 | Rescue | FILLER | 2020-09-29 |
| 146 | Those Who Worship Devils | FILLER | 2020-10-06 |
| 147 | Death | FILLER | 2020-10-13 |
| 148 | Become the Light That Illuminates the Darkness | FILLER | 2020-10-20 |
| 149 | Two Things to Look for | FILLER | 2020-10-27 |
| 150 | The Challenge of the Maidens | ANIME CANON | 2020-11-03 |
| 151 | Clash! Battle of the Magic Knight Captains! | ANIME CANON | 2020-11-10 |
| 152 | To Tomorrow! | ANIME CANON | 2020-11-17 |
| 153 | The Chosen Ones | ANIME CANON | 2020-11-24 |
| 154 | Vice-Captain Langris Vaude | ANIME CANON | 2020-12-01 |
| 155 | The 5 Spirit Guardians | ANIME CANON | 2020-12-08 |
| 156 | Awakening Power | ANIME CANON | 2020-12-15 |
| 157 | The Five-Leaf Clover | ANIME CANON | 2020-12-22 |
| 158 | The Beginning of Hope and Despair | MANGA CANON | 2021-01-05 |
| 159 | Quiet Lakes and Forest Shadows | MANGA CANON | 2021-01-12 |
| 160 | The Messenger from the Spade Kingdom | MANGA CANON | 2021-01-19 |
| 161 | Zeno's Power | MANGA CANON | 2021-01-26 |
| 162 | The Great War Breaks Out | MANGA CANON | 2021-02-02 |
| 163 | Dante vs. The Captain of the Black Bulls | MANGA CANON | 2021-02-09 |
| 164 | Battlefield: Heart Kingdom | MANGA CANON | 2021-02-16 |
| 165 | Water Crusade | MANGA CANON | 2021-02-23 |
| 166 | Captain Yami Sukehiro | MANGA CANON | 2021-03-02 |
| 167 | Black Oath | MANGA CANON | 2021-03-09 |
| 168 | Stirrings of the Strongest | MANGA CANON | 2021-03-16 |
| 169 | The Devil-Binding Ritual | MANGA CANON | 2021-03-23 |
| 170 | Faraway Future | MANGA CANON | 2021-03-30 |