Este post também está disponível em: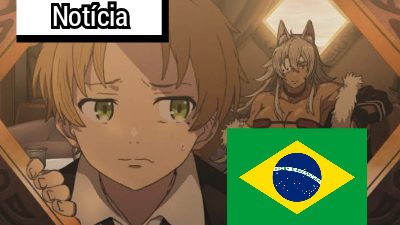 It was announced via Funimation's official Twitter account
a Portuguese dubbing for the anime Mushoku tensei: isekai ittara honki dasu
scheduled to debut on August 26.
along with Mushoku tensei , dubbing has been announced for other projects.
anime: Horimiya, Wonder egg priority and the two seasons of Black
Butler.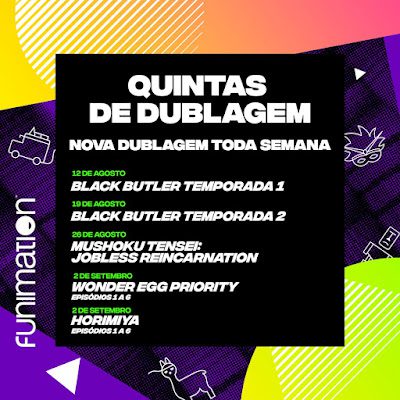 Dubbing chart released by Funimation.
About:
Mushoku

Tensei: Isekai Ittara Honki Dasu
 (
無職転
生
〜異
世
界行
ったら本
気
だす
) translated in the West as Mushoku Tensei: Jobless Reincarnation is
a light novel series written by Rifujin na Magonote and illustrated by
Shirotaca, It was published on the website for self-publication
–
Japanese novelist Shousetsuka ni narou until it was acquired by Media.
Factory which has published 24 volumes since then.
The anime adaptation was made by Studio Bind , which produced 11 anime films.
episodes under the direction of Manabu Okamoto, the second part of the anime is
expected to debut in October on Funimation.
Synopsis:
A 34-year-old loser
gets hit by a bus, but his story doesn't end. Reincarnated
as a child, he will embark on an epic adventure.
(Via: Funimation)
Sources and References:
> Twitter
Recent:
The Brazilian isekai of the Carioca who became a coxinha gaucha in another world ???
←Hitoribocchino isekai kouryaku: A lonely life in another world.

Posts
Related:
–'Kumo desu ga, nani ka ?' may have a second season ?
– Dragon maid, Tensura Nikki and 100-Man no inochi will receive express dubbing from Crunchyroll.
– 5 Weirdest Isekai Tensei Manga and Light Novels| Bizarre reincarnations.
Follow 'just an isekai anime fan' on MAL, Facebook, Twitter e Instagram to see more
about Isekai.