Este post também está disponível em:
Português (Portuguese (Brazil))
The wait is over for Boruto fans! Manga Plus has just released the long-awaited Portuguese edition of "Boruto – Two Blue Vortex". Anime and manga fans can now dive deep into the latest adventure in the series. If you're an enthusiast of thrilling narratives full of twists and turns, this release certainly won't disappoint.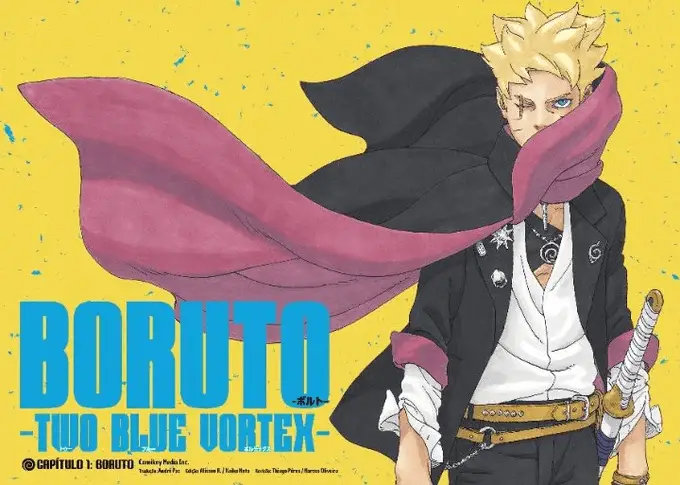 The Journey Continues: Boruto – Two Blue Vortex
The Boruto saga continues with "Two Blue Vortex", featuring an engaging plot and charismatic characters that have won over fans all over the world. Manga Plus, recognized for its editorial quality and for making content available in multiple languages, now offers readers the opportunity to follow every chapter of this fascinating journey in Portuguese.
Link to Reading
Follow the link below to start reading "Boruto – Two Blue Vortex" in Portuguese by Manga Plus:
An Immersive Experience
Manga Plus not only provides an accessible reading experience, but also preserves the artistic quality and essence of the original work. The vibrant illustrations and captivating dialogues come to life on the digital pages, offering readers an immersive and engaging experience.
For anime and manga fans
If you're an avid anime and manga fan, you know that "Boruto" is a series that has earned its place alongside other renowned franchises. With a dedicated and growing fan base, the series continues to explore new dimensions of the universe established by its predecessor, "Naruto". "Two Blue Vortex" promises to be another exciting chapter in this journey, with action, mystery and memorable characters.
Final thoughts
For enthusiasts of the genre, the arrival of "Boruto – Two Blue Vortex" in Portuguese by Manga Plus is exciting news. The availability of content in multiple languages reflects the platform's commitment to serving a global audience eager for engaging stories. Now is the perfect time to catch up on the series and follow the twists and turns that await Boruto and his companions.
Visit the link provided and embark on this new adventure. Manga Plus has brought you the chance to dive into the pages of "Boruto – Two Blue Vortex" in official Portuguese. Get ready for an exciting read, full of action and mystery, and join the community of fans who closely follow the exploits of modern ninjas.
Remember, the action is about to begin. Click on the link, venture into the world of Boruto and enjoy an experience that captivates from the very first page.